This post may contain Amazon® product affiliate links. We may receive a commision if you make a purchase after clicking on one of these links but at no cost to you. Please visit Our Affiliate Disclosure Page for more information. Thank you.
More and more moms are choosing organic options when it comes to baby food to avoid harmful chemicals and ingredients, but organic baby foods can get expensive, taking a toll on mom and dad's wallets. Making your own baby food from fresh fruits and vegetables is another option but can be a tedious process that's nearly impossible while trying to tend to baby's other needs. The BEABA Babycook Pro helps cut the time of preparing your own organically fresh baby food in half and makes healthy meals for your little one in just 15 minutes! This BPA, Lead and Phthalate free small counter top appliance steam cooks, blends, and reheats all-in-one for fast baby meals your can refrigerate or freeze to heat up whenever needed. The patented steaming process of the BEABA Babycook Pro is used because it locks in vitamins and nutrients your growing baby needs. It is available in 4 lovely color combinations and also comes with a book of recipes to try with your baby to find their favorites. A most loved pick for moms and dads wanting to feed their baby nothing but the best!

See why parents have loved using the BEABA Babycook Pro for over 20 years! Watch it in action in the video below! 🙂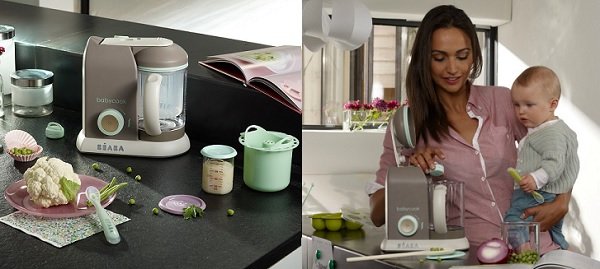 Have twins or need to make more food at once? Try the BEABA Babycook Pro 2X that has double the cooking capacity!